Community Data Roundtable implements cross-entity outcomes monitoring and decision support systems. Payers and Purchasers/Government gain unique vantage on their jurisdictions, gaining the ability to track outcomes, and implement system changes in collaborative and successful manner.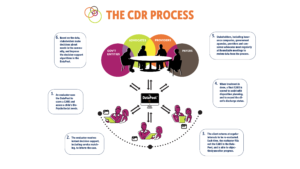 Whether you are state who has to manage multiple payers, or a smaller county dealing with just one payer in your area – CDR offers a means to improve oversight and coordination with large social service payers and ASOs.
Key components of our process:
Software: The CDR DataPool software is an outcomes application for the provider, and a review tool for the payer/government, all in one. It is used by frontline clinicians to track member progress and receive decision support. Further on the provider side, supervisors use the DataPool to manage the outcomes and clinical review of their population through helpful reports and tools. Simultaneously, this information is made available to care managers and reviewers, in order to facilitate management and authorization processes.
Analytic Services & Decision Support: Beyond collecting the data, CDR works with local communities to analyze their systems of care, finding opportunities for positive impact. The most important analytic tool developed for oversight and planning is CDR's Communimetric Service Match (CSM) algorithms [link to our Decision Support Algorithm page, including the Interpretation Manual]. These algorithms identify members in need of specific evidence-based programs, expediting timely and appropriate referrals. Other measures and insights are always being developed, including measures of clinical change and improvement, autism severity, riskiness, and more.
Implementation: More than software and analytics, CDR brings expertise on implementing large scale outcomes and decision support systems.  Our knowledgeable staff has implemented successful TCOM programs in multiple jurisdictions, and accomplishes results. Through regular meetings, audits, CQI processes, outreach, collaborative meetings and more, we know how to make a program successful.  Organizations using our approach, have achieved success with Joint Commission and National Council on Quality Assurance (NCQA) quality initiatives, and has steered their system to bottom line improvements.